How to Update an Old Chandelier
A while back I inherited this chandelier and even though it has HUGE sentimental value it still sat in a box under our stairs for way too long.
You see, I wanted to see it displayed proudly in my home somewhere. But everywhere I suggested we hang it up my husband would say no. Turns out it is "ugly".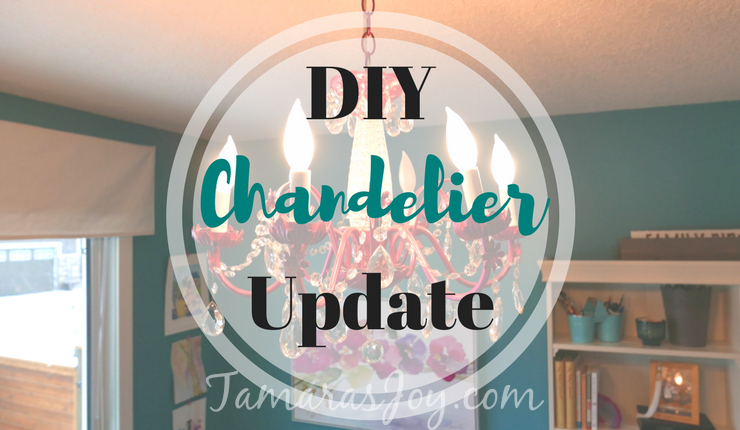 Finally I found the right spot, my craft room…ahem…or as my husband attempted to call it…the office. lol! Since my craft room is full of color I decided this light could use a matching colorful update.
The color I chose; pink!
Since I am a mom of two boys I rarely get to see pink anywhere in my home so my craft room has become a place I can get away with a little more feminin decor. No batman decor here!
Here is how I turned this sentimental chandelier into a colorful dream: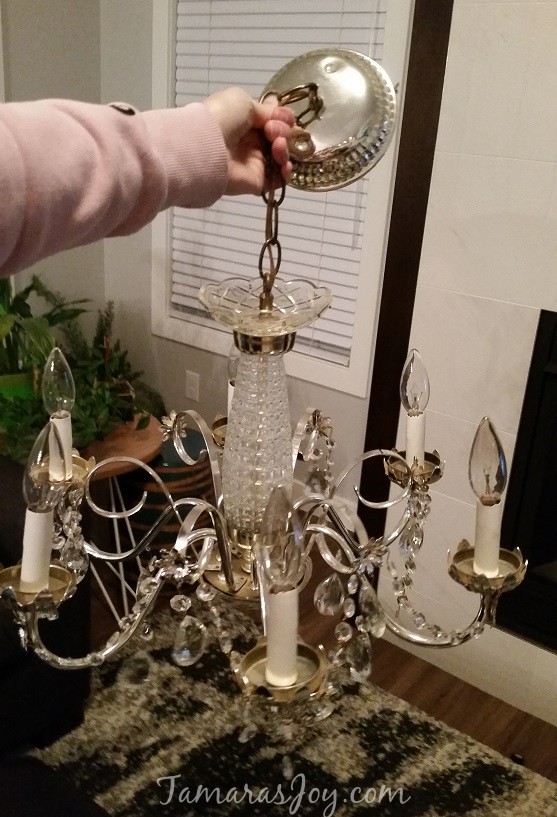 What you will need to update an old chandelier:
Two cans of spray paint
An electrician to rewire your old chandelier. I found a local company that specializes in old lighting.
A Brother in law to do the electrical work 😉  Thankfully I have three to chose from 😉
Step one: Take all the jewels off as well as any other pieces that can easily come off.
Step two: Prepare a space to spray your chandelier. I use two shoe horses with a bar across the two. And a very short bungee cord to hold up the light.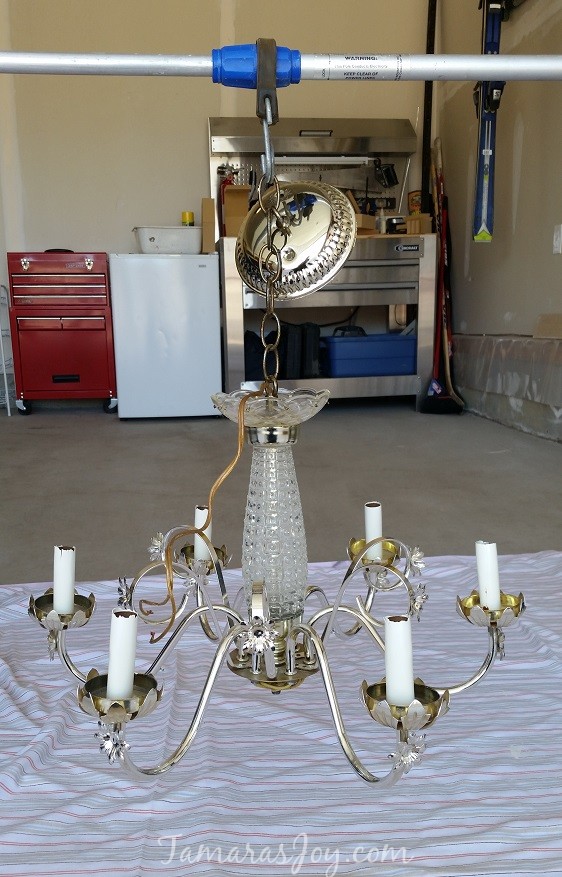 Once you have your set up, it's time to prepare your light.
Step three: I used cotton balls to fill the individual bases and painters tape to protect the electrical that was exposed.
I also chose what glass I wanted to save and taped it up as well. The rest was painted.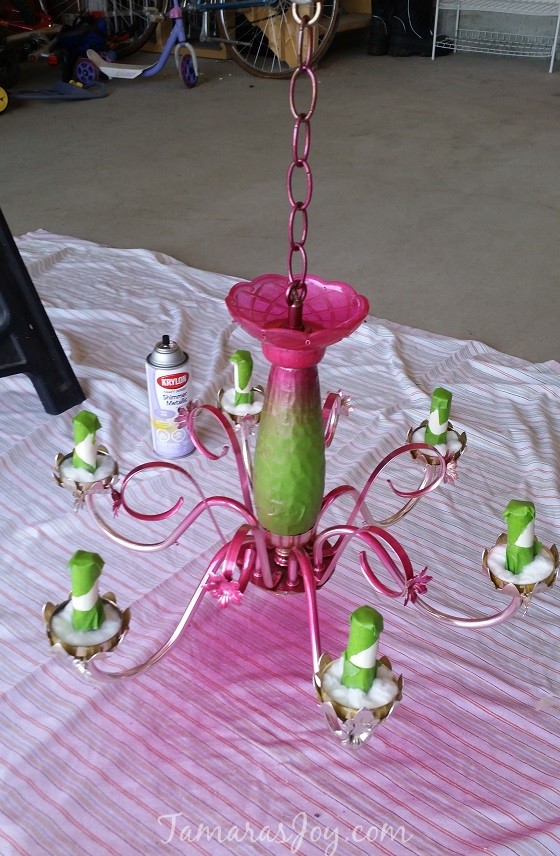 Step four: Start Spray painting. First spray paint from the top.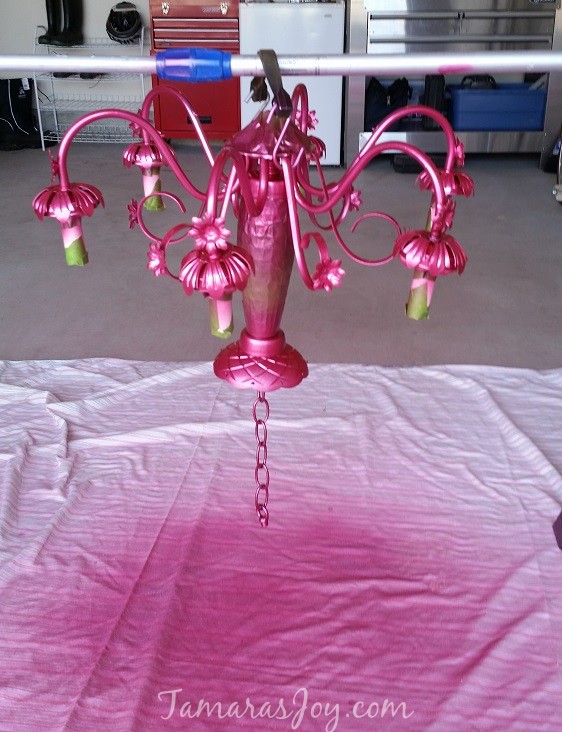 Then spray paint from the bottom, you will be looking up at it for the most part so make sure you don't miss a spot!
It took me two cans of spray paint to cover everything the way I wanted. But it was worth it!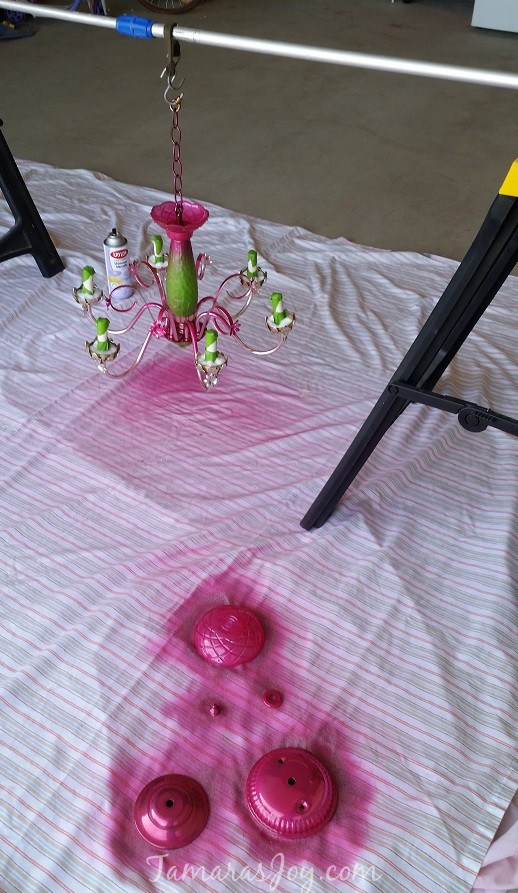 Step Five: Get it rewired professionally. Or at least have it looked at to make sure it is safe to use…..perhaps this could be step one. I had contacted my company first and they told me to paint it before I brought it in. So that is what I did.
As you can tell I was more concerned about saving the electrical rather then the "candle" features. This is because after it was painted I brought it to an electrician that works with old lights. They rewired the light and added new "candles" as the old ones were cracking.
Let everything dry, put it back together and ask for help to hang it! Or do it yourself if you are an electrician…or married to one.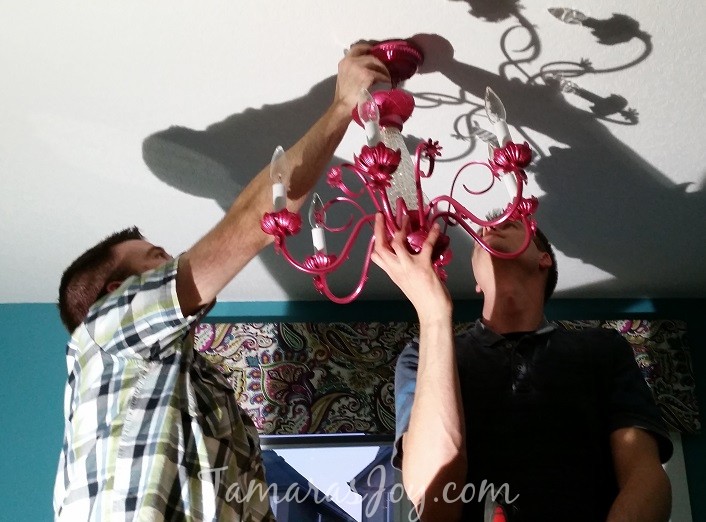 For me it took a husband and a brother in law. Eeeekkk! I am excited!
Finally it is finished. What do you think? Worth doing? You don't have to pick pink, spray paint comes in all colors 😉
I like that I spray painted some of the glass. It makes the details pop out a bit more.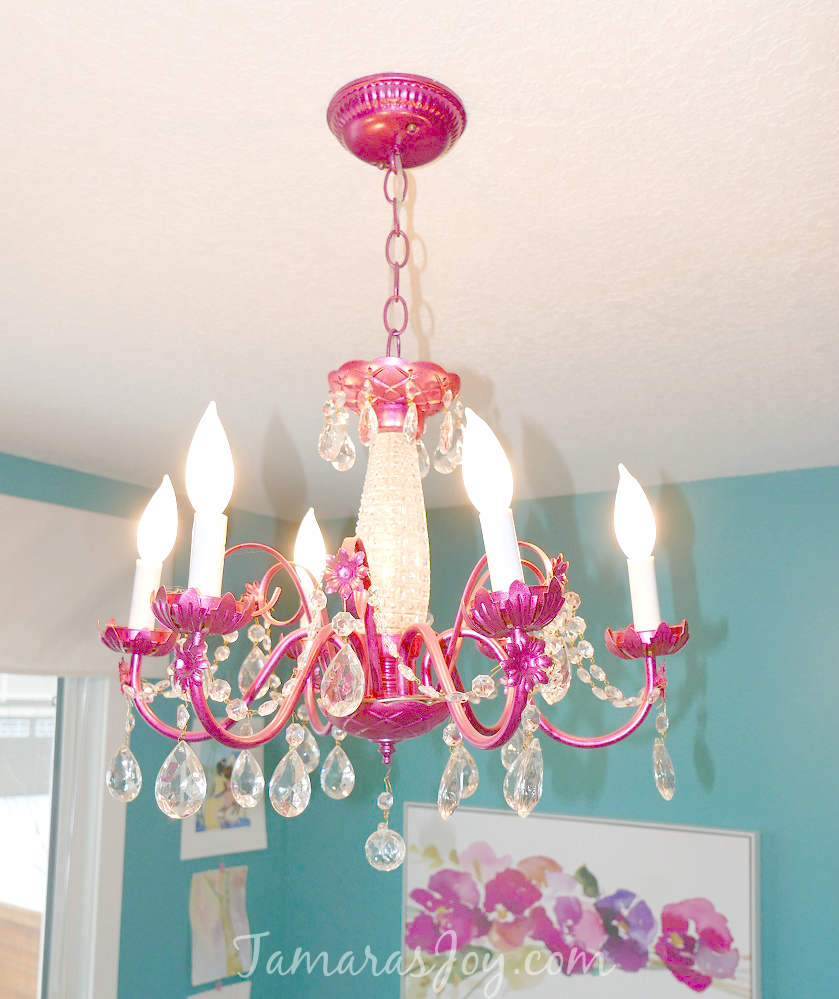 As you can tell from the pic two pictures above; I changed my valance to white.
I did this because I found my previous valance made it hard to look at the beauty that is my new chandelier! I can see this light from my kitchen and it makes me happy every time I see it. Sigh!
If you found this helpful please pin the below photo to share the love: