Our Failed Adoption Story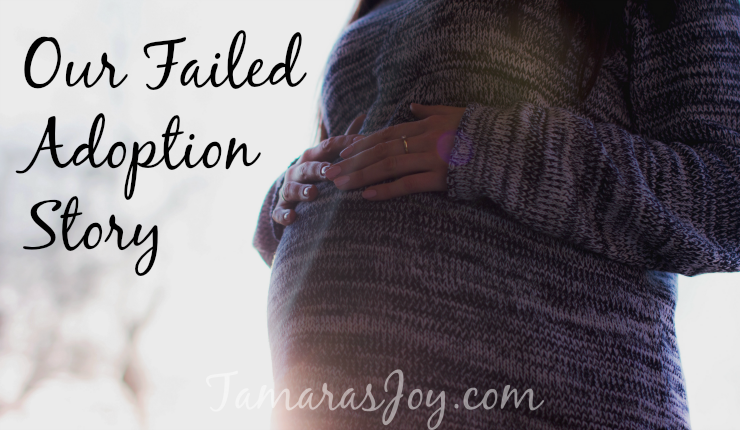 Praise the Lord our failed Adoption Story comes after a successful adoption that blessed us with our first son Teo.
Failed Adoption Part 1: Paperwork
Becoming parents in 2008 through adoption changed everything. We were no longer in pain watching others be parents as we were finally a part of that coveted group. However, the big difference between us & our friends was that we couldn't put our family planning to rest now that we had our first child.
We knew we didn't want Teo to be an only child and we also had seen how long of a road it can be to adopt. The first 6 months of his life we were busy with follow up adoption paperwork such as post placement updates as well as filling out immigration forms. After that we started all over again.
We began the paperwork process for our second child when Teo was only 6mths old. Legally you are not allowed to adopt another child until a full year has passed. Knowing how long it can take to get paperwork in order we decided to start as soon as we could. Talk about never getting a break from paperwork! UGH!
It was worth it though as we were able to be on an active waiting list (this means we can be shown to birthmothers) as soon as Teo turned one.
The agency's average wait time had changed and was now around 16 to 18 months. Perfect! We were in NO WAY ready to adopt right away but we had gotten the ball rolling and that was all we needed.
Life as a newbie parent is crazy busy, life changing in all ways so it was easy this time around to put the waiting time out of our minds. We were busy living life, the pain and angst that came with waiting for our first adoption was not there. Just a calm knowing that one day we would become a family of 4.
Failed Adoption Part 2: The Phone Call
14 months after being on an active waiting list we received that exciting phone call. A birth mother had picked us! The news of this birthmother was a tad more shocking then our first adoption experience. She had been in jail for a good portion of her pregnancy & she had smoked pot.
Were we ready for all of this?
That evening Mark & I poured over all the paperwork details on the situation and found some relief in it all. Because this birthmother had been in jail for most of her pregnancy it meant that she was forced to have proper prenatal health care for the baby. It also meant that she was unable to drink & smoke for a good portion of the pregnancy. So our first reaction of fear towards this situation dissipated and we accepted the call to adopt this child.
We had the opportunity to be able to exchange a phone call with the birthmother, this was a chance for us to get to know each other a bit more. The baby was a boy and was due in 3 weeks. Mark, myself and the birthmother spoke about names settling on the name Elijah.
What a precious moment this was.
The fun part of course was getting to share the news with our families. Since my family didn't live close we shared our news with them on the phone. But since we would see Marks side of the family that Sunday we decided that Teo would show up wearing a big brother tshirt and handing Grandma a little brother tshirt. Celebrations had begun!
Failed Adoption Part 3: Waiting and Preparing
As we waited for Elijah to be born we moved Teo out of the nursery room into a big boy room. Trying to get Teo to stay in his bed at night was NOT EASY! But we needed it to happen so we could be fully prepared when we brought Elijah home.
I washed all of our stored baby boy clothes and set up the nursery room for our second son. You would assume that Mark and I were full on crazy excited. But the truth was that most of the time we were strangely robotic about it all. We had been waiting for over 19 months and had somehow forgotten to become emotionally prepared! Mark & I talked a lot as we waited for the birth of Elijah and slowly we became emotionally ready. We were thrilled to have a chance to grow our family and experience this growth through adoption.
A second son, a blessing from God!
Failed Adoption Part 4: Labour Day
Then the day of Elijah's birth finally came! We were so excited and ready in all ways oh how wonderful it would be to grow into that family of 4.
Then, we heard nothing.
We waited the 48hrs that the birth mother had to change her mind. Things began to feel wrong. When we finally had contact with the birth mother's social worker we were given the bad news. She had decided to keep her baby. As hard as this news was to hear, sickening even I look back and can see two big red flags that we had glossed over in the excitement of it all.
Failed Adoption Part 5: Red Flags
Reasons this becomes a failed adoption story….
It never actually sounded like the birthmother wanted to give her child up. It seemed that she was being forced to by her mother. She had 3 previous children that her mother already cared for. This birthmother was told by her mother that this was not going to happen again. She needed to give this child a family through adoption if she could not be the parent.
The other big thing I realize now is that we had not chosen the name together but in fact the birthmother had picked his name, Elijah. She was attached. How can you blame her?
I will never know what exactly made her decide to keep her son, but I am still incredibly thankful we had the opportunity to go through this failed adoption experience. Wait…she said what?!?!?
I said I am THANKFUL
Failed Adoption Part 6: Peace & Blessings
Looking back on this moment in time I see God's hand at work.
We still pray for Elijah. Perhaps that is all God had planned. An opportunity to bless this child with lifetime prayer warriors.
It was also a kick in the butt from God! He got adoption back on the forefront of our minds. This may have been a painful experience but it was a reminder to pray fervently for our second child. To get our ducks in a row as an adoption could happen any day.
The most important thing it did was opened our hearts up to be 100% excited and ready to grow our family once again through adoption.
Even though this is our failed adoption story it doesn't end here.
If you have gone through this pain just know your story doesn't half to end here either! Keep your hope!!
Only 2 months after our failed adoption we would get another call and this time we were ready for it. THIS is how we were prepared to welcome our second son Rome into our lives.
Please pin this picture to share our story: